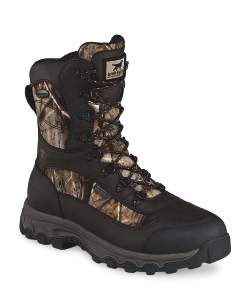 RED WING, MN (January 2010) —Irish Setter extends its hunting boot line to include the Trail Phantom Safety Work/Hunt multi-purpose boots. It's a natural extension because Irish Setter boots are closely tied to the legendary work performance of Red Wing Shoe Company. In fact, the first "Setters" were work boots named Irish Setter because the leather color was similar to that of the Irish Setter breed.

The Irish Setter Trail Phantom Safety boots feature a lightweight aluminum safety toe and UltraDry waterproof construction. The bottom package includes a polyurethane midsole which is more durable and chemical-resistant than EVA and the ShadowTrek Outsole which is designed to be durable, yet lightweight and flexible for enhanced comfort.  These boots meet the ASTMF 2413-05 standard.

The Trail Phantom Safety boots are available in a non-insulated 9" brown version (#4840), a non-insulated 9" black version (#4841) and a 9" Realtree AP Camo version with 400 grams of Thinsulate Ultra insulation (#4842). They're available in men's sizes 8-14D and EE.

"We've seen some research at states that 26% of hunting boots purchased are also used for work. These lightweight multi-purpose boots demonstrate our extensive knowledge of hunting boots and work boots. They're great cross-over boots," explained Irish Setter Product Manager, Kyle Rackiewicz.

The new Trail Phantom Safety multi-purpose boots will be available in July 2010 at leading outdoor retailers. Visit www.irishsetterboots.com for the retailer nearest you.
Based in Red Wing, MN, Irish Setter is a division of the Red Wing Shoe Company, Inc. that includes a full line of performance hunting boots, fishing shoes and outdoor casuals. Irish Setter continues to use leading technologies and the finest materials to provide customers the best quality outdoor footwear. For more information about Irish Setter's heritage, products and retailers, visit www.irishsetterboots.com. Irish Setter. The Hunt Never Ends.

###
Editor's Note: Contact Kim Emery at Firefly Publicity for username/password to access media information and images. kim@fireflypublicity.com, 651.388.7896. The recommended images for this product are: 4840,4841,4842.

Visit www.fireflypublicity.com for more information. Firefly Publicity works closely with writers and editors to place products in media like magazines, newspapers, on-line content, radio and television. Public relations is a cost effective way for companies to maximize their marketing or advertising budget. Firefly Publicity is a results-oriented pr firm located in Red Wing, Minnesota. If you're interested in gaining exposure for your company's products, please contact Kim Emery at Firefly Publicity.