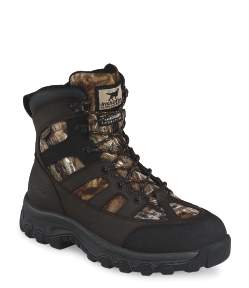 RED WING, MN (January 2010) —  Irish Setter is adding more styles to its youth hunting boot line. The Kit Fox hunting boot was designed specifically for boys and girls. Although the boots look just like Dad's, they are built on youth-specific lasts. Like all Irish Setter hunting boots, the Kit Fox boots are built for performance and utilize the same materials and constructions as the adult hunting boots.

All Irish Setter Kit Fox boots feature Ultra Dry waterproof construction, ScentBan and a carbon rubber sole. These sleek and lightweight boots are offered in youth medium sizes 1-6.

Style #2803 has an easy on-off side zipper and is available in Mossy Oak Break Up Camo with 600 grams of Thinsulate Ultra insulation. And 1000 grams of Thinsulate Ultra insulation is offered in Realtree All-Purpose Camo for style #2804.

"We're expanding upon the success of our Kit Fox youth hunting boot line. We want to make kids' outdoor experiences enjoyable so we've added more insulation options," explained Irish Setter Product Manager, Kyle Rackiewicz.

The new Kit Fox boots (#2803 and #2804) will be available for $79 in July 2010 at leading outdoor retailers. Visit www.irishsetterboots.com for the retailer nearest you.
About Irish Setter
Based in Red Wing, MN, Irish Setter is a division of the Red Wing Shoe Company, Inc. that includes a full line of performance hunting boots, fishing shoes and outdoor casuals. Irish Setter continues to use leading technologies and the finest materials to provide customers the best quality outdoor footwear. For more information about Irish Setter's heritage, products and retailers, visit www.irishsetterboots.com. Irish Setter. The Hunt Never Ends
###
Editor's Note: Contact Kim Emery at Firefly Publicity for username/password to access media information and images. kim@fireflypublicity.com, 651.388.7896. The recommended images for this product are: 2803,2804.

Visit www.fireflypublicity.com for more information. Firefly Publicity works closely with writers and editors to place products in media like magazines, newspapers, on-line content, radio and television. Public relations is a cost effective way for companies to maximize their marketing or advertising budget. Firefly Publicity is a results-oriented pr firm located in Red Wing, Minnesota. If you're interested in gaining exposure for your company's products, please contact Kim Emery at Firefly Publicity.